ColoniaTEC is a design study intent on developing strategies for urban transformation. Sited adjacent to the oldest university in Mexico's TEC system, this project deploys the entrepreneurial motives of the school to reverse a trend of abandonment and dilapidation within the existing colonia.
In an area where the the economic gap between rich and poor manifests itself with walls and gates, 'improvement' of the university means building barriers and increasing security, effectively bullet-proofing the campus. ColoniaTEC offers an alternative. Rather than separate, ColoniaTEC posits that by enabling mobility and enhancing connectivity to the colonia, healthier community protocols can result. Thus, ColoniaTEC proposes an incremental process of transformation.
This process begins with a simple connection between the campus and the community, follows with programmatic and microclimatic insertions, and concludes with a system of mixed-use building prototypes that correspond with zoning regulations to maximize the potential for an active public streetscape.
Strikingly, the only pedestrian connection between campus and colonia is a 1.5m-wide passage between high-speed auto traffic.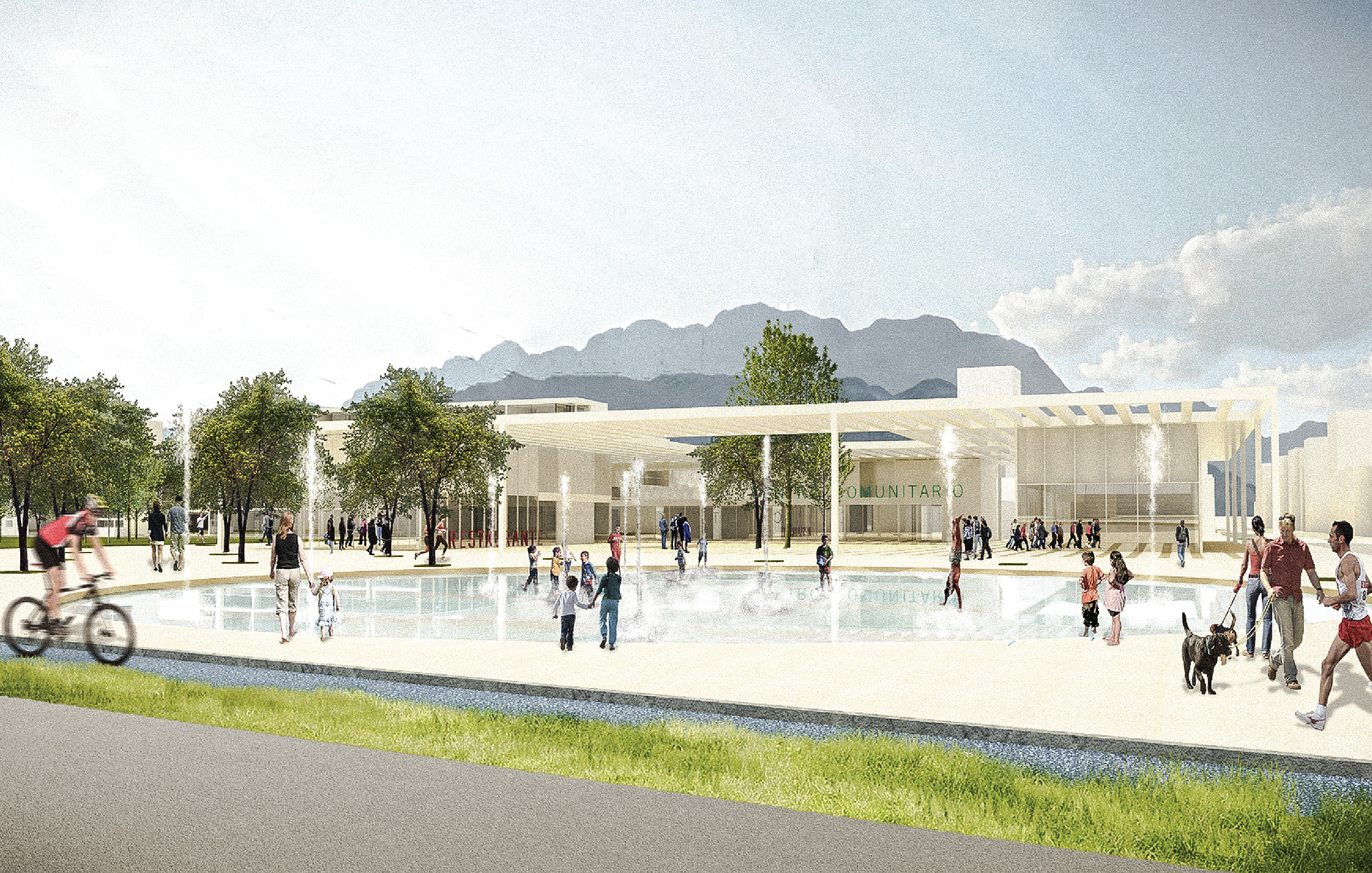 Following this initial connection, coloniaTEC proposes a series of programmatic and microclimatic insertions within the colonia. Programs such as commercial hubs, entrepreneurial incubators and cultural facilities are coupled with covered public space and vegetation. Most notably, the conversion of an existing formerly-green space into the lush, shaded parqueTEC embeds the colonia with amenities that it currently lacks
Following the initial connection and secondary insertion of public amenities, coloniaTEC proposes mixed-use building prototypes that correspond with new zoning regulations aimed at maximizing street-life. These 5 prototypes are designed as an aggregate of 21 residential units, arrayed within 3 specific neighborhood zones, and deployed within 4 existing parcel types.
The first of these three zones, Avenida del Estado stretches directly from the campus through the colonia. Its existing commercial nature, particularly businesses catering to the student community remains, but is incrementally added to by office and residential development.
Three building prototypes have been devised for Avenida del Estado, utilizing existing 10, 15, and 30m parcels. These have been designed for mixed-use, and include living/studio spaces and shared public space for the emergent TEC-related community.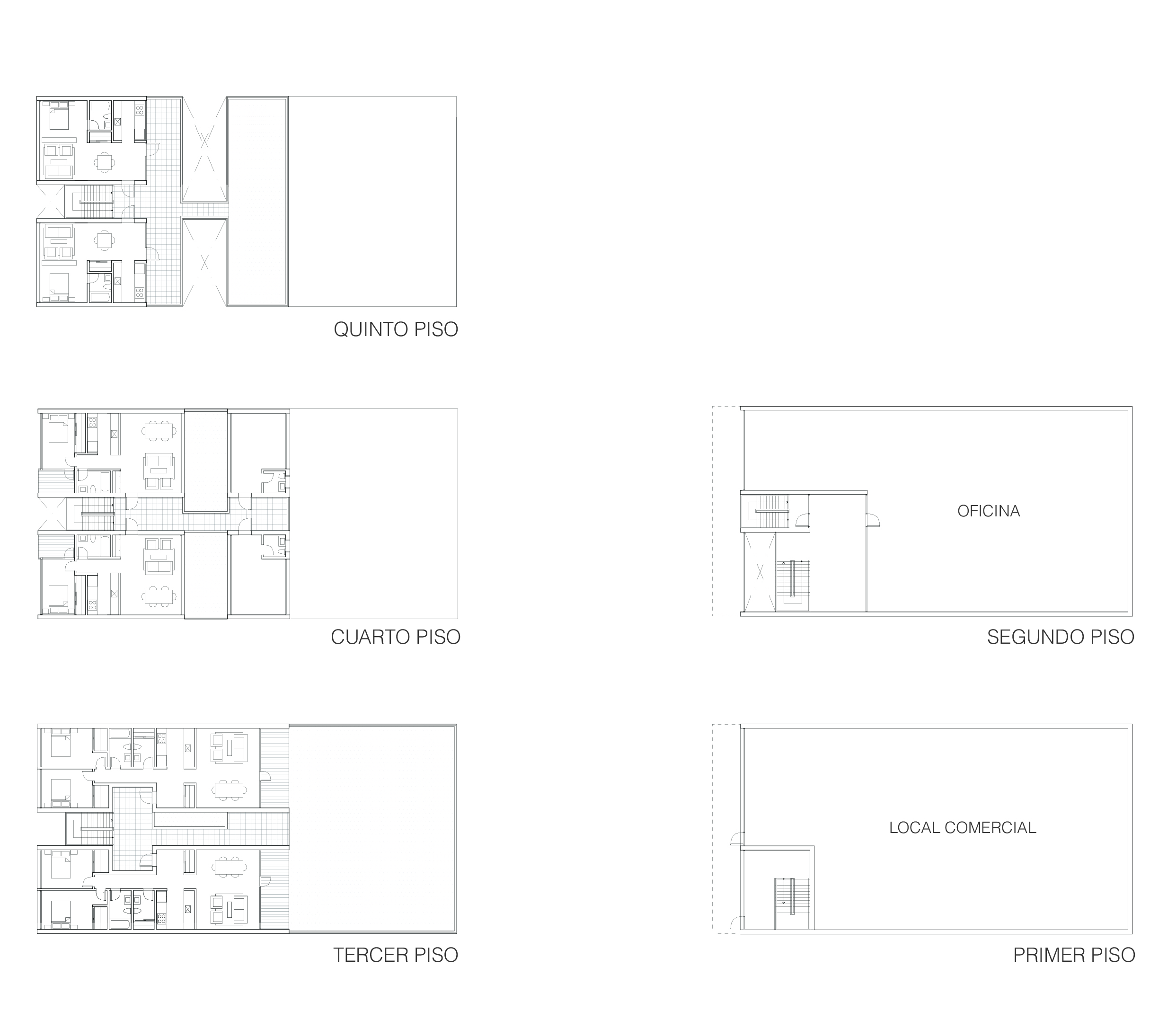 Area Residencial currently occupied by a dwindling middle-class community. Located further from the campus, its is projected to be an area where student and family-oriented populations merge.
Two building prototypes include a variety of larger unit types adept for families. These include parking as well as communal public space.
The final zone includes areas that border the parqueTEC. Overlooking the park and featuring multi-level communal recreation space, the parqueTEC prototype is projected for higher-end clientele. Featuring park-front ground level commercial space, the parqueTEC zone will be characterized by the merger of sidewalk and park activity.
PROJECT DATA
Location: Monterrey, Nuevo Leon, Mexico
Program: Urban Strategy + Design
Team: FSA - Francisco Sanin (principal in charge), Ryan Novi (team manager)
with Hamza Hasan, Laura Bedoya-Gallego, Yo Soup Lee, Danielle Lax, Brendan Finney, Alex Raynor, Irini Zhupa
Client: Tecnológico de Monterrey
Status: Design Study
Year: 2013